Total Knee Replacement in Younger Active Patients
In years past the typical joint replacement patient was quite elderly and sedentary.  the goal was to relieve day to day pain, not to improve athletic activities.  waiting until patients were older also reduced the chance of needing a revision in the patient's lifetime. In recent years however, younger patients are undergoing elective knee replacement in higher numbers. About 50 percent of total knees being done in the US are now between the ages of 45 to 64, and this is the highest growth area. Younger patients are less satisfied with a sedentary life. They want more physical activity in their lives.  They are seeing friends who have become active again after a knee replacement, and they want the same.  Some people build their social life around tennis or golf.  I have an large group of senior softball players, all with total knees, who love to play all week long during their active retirements. This is what gives these people pleasure in life – so why not replace a painful joint that limits your abilities to enjoy!  
Many young knee replacement patients started out with a knee injury years ago. A torn meniscus or torn ACL ligament led to one or more knee surgeries- each with a period of rehabilitation. Now 20 years later, the knee cartilage has been worn down, and areas inside the knee start to grind. This leads to swelling and pain with activities. "Scoping" the knee again just can't replace the missing cartilage surfaces.
In the past, we told patients that total knees will only last 10 to 15 years, so you must wait before doing it.  having personally done total knees for over 25 years now, I can tell you that most knees last much longer – even with older cementing techniques and older implant designs. Unfortunately, there are always a few premature failures, so no guarantees can be made for any particular knee replacement patient.We know that 85% or so of well done total knees will work just fine at 20 years out!  But that means  that about 1 out of a hundred  per year develop some type of problem. The good news is that it is generally not that difficult to revise a failed total knee to a new total knee. So as a famous athlete once said to me, "Doc as long as you can fix it if I break it, then I will play professional ball".
Younger patients are less satisfied with a sedentary life. They want more physical activity in their lives.  They are seeing friends who have become active again after a knee replacement, and they want the same.  A total knee replacement can make a huge difference in your overall health and longevity by allowing you to get the exercise you need to stay healthy, even if is only a long walk each day! No more pain!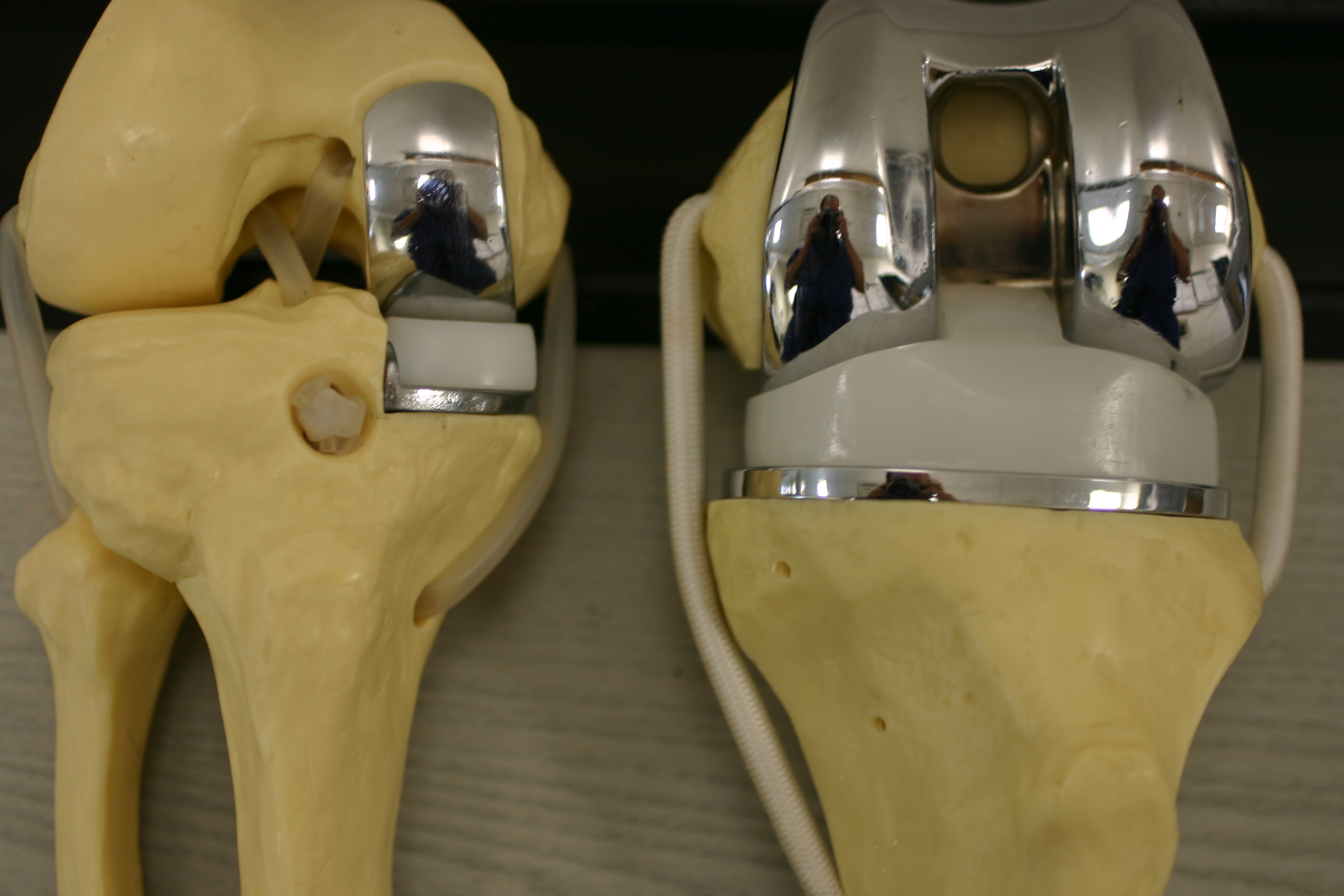 I favor the rotating platform total knees. While no specific long term data exists to prove they are better in the long term, it is my impression that they are.  I think the reason is the mobile bearing plastic tibial insert can spin and move, much like a shock absorber to limit the stresses that are felt by the bone from activities. Patients do seem to prefer the RP knee when they compare it to a fixed bearing knee they may have had done on the other side. I have allowed my patients to play all sports, with the exception of distance running, as I am concerned about the long term effect of the constant pounding on the cement. We all have seen thick cement sidewalks that have cracked with time, from exposure to the elements.  I believe the bone cement we use can also crack from extreme repetitive impacts.
Bike riding and swimming are IDEAL exercises for total knee patients, but I allow tennis, golf, skiing, bowling, and softball.  Racquetball makes me nervous because of all the squatting and twisting forces (worse than tennis). Football, basketball, and soccor are not so good because of all the running.  Boxing is OK with a total knee!
In summary, if you are over 44 years old, and your knee hurts every day, particularly if you have to take pain meds for relief, then you should consider having your knee replaced.  Go to a Fellowship trained Total Knee specialist who does over 200 knees a year! Like any other manual skill – surgeons get much better at it with experience.  Visit our other website at www.Scottsdalejointcenter.com for more information on total joints!
Stuart Kozinn MD
Medical Director – Scottsdale Joint Center
About Dr. Stuart Kozinn:
Dr. Suart C. Kozinn MD is a highly regarded  orthopedic surgeon in Arizona who has been improving his patients lives using advanced joint reconstruction techniques for 25 years.    Dr. Kozinn's extraordinary training includes completion of a Joint Replacement  fellowship at Harvard Medical School, and graduation from the most prestigious orthopedic training program in the world at The Hospital for Special Surgery in New York (HSS).  He received his MD degree from UCLA Medical School in 1982 with honors for his innovative joint replacement research describing bone ingrowth into cementless prostheses. He is an expert at minimally invasive and muscle sparing surgery techniques that allow his patients to recover more rapidly.  Many hip replacement patients can now go home the same day as surgery.  Dr. Kozinn specializes in complex  reconstructions and he performs over 700 surgeries each year at Scottsdale Healthcare Medical Center, where he is the Medical Director of their 5 Star rated Total Joint Center (by Healthgrades* ).  Dr. Kozinn is past Chief of Surgery and Chief of Orthopedics at Scottsdale Osborn, and is the current  President of the Scottsdale Joint Center.
Dr. Kozinn has been a leader in bringing the technically advanced procedures such as "mobile bearing" partial knee replacement and the Direct Anterior approach for total hip replacement to the Southwest. This minimally invasive hip technique uses a special motorized table that facilitates placement of the hip implants without cutting any muscle tissue. Patients recover at a remarkably faster rate, with very little pain, and no restrictions on their activities. Dr. Kozinn is also the author of many scientific articles on joint replacement, and is recognized internationally for his pioneering work in the field of Partial knee replacement surgery.  Also a published author on Total Shoulder replacement, Dr. Kozinn has been offering his patients the new Reverse Total Shoulder replacement which is able to reconstruct previously untreatable chronic shoulder problems.  Dr. Kozinn is available for consultation at his office at the Scottsdale Joint Center near the Osborn Campus in downtown Scottsdale, and appointments can be made online at www.ScottsdaleJointCenter.com. Visit his Facebook page at www.facebook.com/scottsdalejointcenter.